FBI Serial Murder Case Chapter 2: FBI tries to lure the Black Organization with their fake code but...
The previous chapter can be found here:
Related

Detective Conan File 1061 - Thoughts
An exciting series started in Detective Conan: FBI Serial Murder Case (6 chapters in tota...more
Detective Conan
Note
This post contains spoiler.
Summary
Reference
Detective Conan, File 1062 — ©Gosho Aoyama / Shogakukan Inc.
Conan tells how he deciphered the FBI's code for communicating a meeting place; the agents are astonished.
Camel proposed to use the code —which the Black Organization (BO) hacks— to lure and ambush the BO. Jodie creates a code. Akai passes Camel Akai's flat hat when Camel leaves.
Vermouth hacks the code of the FBI's meeting point and shares it with the BO members. Gin says they need to take care of as many FBI agents as possible before the big event.
Rum interrupts the BO members through a headset; Rum is using a voice changer. (Nothing else described beyond.)
No BO members show up at the FBI's fake meeting point. The FBI starts to think that Jodie made a mistake writing the code.
The FBI agents on the rooftop are suddenly shot by BO members from nowhere. The FBI agents start to retreat. Gin shoots Camel's car with his right hand.
Yusaku deduces that Jodie's code has something to do with how the BO found out the code was fake. He asks Jodie if she was an elementary school teacher. Jodie mentions she learned Japanese from an elementary school teacher.
Thoughts
Did Jodie Intentionally Mistake on The Code?
Probably not, but this might be one possibility.
If Jodie is a spy from the BO, she can make things smooth for the BO like this chapter. When Rum interrupts the BO members to head to the FBI's meeting point, probably Rum says something like "the code is fake."
But how Rum knew the code was fake such quickly? It might be because...
A spy (or spies...) was in the FBI
Rum also hacked the FBI's device him/herself as well
Akai's Flat Hat
Akai passes his flat hat to Camel so that Camel can hide his face as much as possible. Camel shouldn't be found by the BO because he is thought to be dead when Kir went back to the organization as a CIA undercover agent (file 603 or vol.58 file 6).

This hat and Tsutomu Akai's hat are alike (Tsutomu: Akai's allegedly dead father). Does this foreshadow as Akai (Shuichii) and Tsutomu met at some point after Tsutomu had gone missing? Or it just looks alike but different ones, or the Akai family had Tsutomu's hat at hand before Tsutomu had been missing.
If Akai and Tsutomu have been communicating with each other secretly right now, it is going to be so exciting. Though this is just my little hope.
Before The Big Event
Gin says "before the big event" in this chapter. There was another person using the same words: Hyoe Kuroda (file 1017). Kuroda also said that "It's the best to exclude as many problems as possible before the big event."
Are Gin and Kuroda related? Such as Kuroda is Rum and communicating with Gin.
In Detective Conan, the way of talking is a hint that indicates the people are related; e.g. Tsutomu and Mary, Tsutomu and Shuichi. This reminds me of Gin and Mary both said "As like encountering a demon in the darkness." This was Tsutomu's signature phrase.
I'll write about this in another post near future.
Why Does Rum Use A Voice Changer?
Even when Rum communicate with the BO members, he/she uses a voice changer... Why!?
Rum has been said that he/she is so cautious. Does Rum use a voice changer to keep the identity secret?
Or... Is Rum a well-known character such as Jodie, James Black, or any other else? But Rum is thought to be one of Kuroda, Wakita, Wakasa...
So maybe Rum is just really cautious and mysterious person.
Gin Shoots With His Right Hand

Gin is known to be a lefty. He never shot with the right hand so far. But in this chapter, he shoots Camel's car with his right hand. There are some possibilities.
It just a mistake that the creators made: likely
Gin is capable to use the right hand when to shoot: maybe
The gun is for a right-handed person: maybe. But then why he uses this?
This Gin is someone's disguise: unlikely
I have many questions/thoughts for this scene, but let's see how it goes.
Elementary School Teacher
It seems that "elementary school teacher" has something to do with the code.

I'm wondering if the author had a specific intention to put Natsuko Shibuya's image here. Is she (the elementary school teacher who taught Jodie Japanese) also related to the organization?
But it's unlikely. Probably, Jodie mentioned Natsuko to explain how she learned Japanese.
The fact that Jodie had a connection with an elementary school convinced Yusaku and Conan. Maybe the "elementary school teacher" is associated with how the BO finds out the code is fake. For an exciting example, Rumi Wakasa is an elementary school teacher now. If she is the Rum, she might be the one who noticed the code was fake...!
Related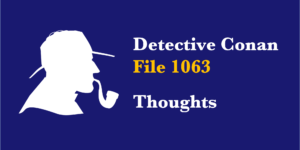 Detective Conan File 1063 - Thoughts
FBI Serial Murder Case Chapter 3: Can Camel escape from the Black Organization!? The p...more
Detective Conan

by Gosho Aoyama (Author, Illustrator)