Since we will have three weeks to read the next chapter, file 1013, I would like to read back and organize my thoughts related to RUM. In this post, I will summarize file 975 to 977 in which Kanenori Wakita first appears. Then I will pick some interesting points from file 975.
Note
This post contains spoiler.
The files are in volume 92, whose cover looks like this.

Titles
The author Mr. Gosho Aoyama often hides a message in a title.
Original
English Translation*
File 975
江戸っ子探偵!?
(Edo-kko tantei!?)
Edoite Detective!?
File 976
奪われた万馬券
(Ubawareta manbaken)
Stolen Betting Ticket
File 977
江戸前推理ショー
(Edomae suiri shō)
Edo-era Reasoning Show
*English Translation Source: https://en.wikipedia.org/wiki/List_of_Case_Closed_volumes_(81%E2%80%93current)
Although there seems to be no significant message in these titles, "Edoite (child of Tokyo)" might be a very crucial keyword when thinking about Kanenori Wakita. Indeed, Wakita has a distinctive speech tone called "Edokko Kucho (江戸っ子口調)" almost whenever he appears. The reason I write "almost" is that he sometimes speaks normal Japanese; it might be a hint from the author.
Brief Summary of The Series
Reference
Detective Conan, File 975, 976, 977 — ©Gosho Aoyama / Shogakukan Inc.
Kogoro luckily wins a betting ticket and has Sushi with Ran and Conan at Iroha Zushi (a sushi bar); they meet Wakita there for the first time.
Three customers also have dinner there. Another lady comes in, claiming her winning betting tickets are stolen and a suspect is supposed to be there.
Sleeping Kogoro cracks the case. Wakita is impressed and asks Kogoro to have him as an apprentice.
The meaning of "Iroha"
Iroha
means the basics of the things in Japanese. It's also the beggining of "Iroha Uta (イロハ歌)" which is a poem using former Japanese characters. "
Iroha
" sounds classy to Japanese (at least to me). When we hear "
Iroha
" we often associate it to former eras such as Heian or Edo period.
Pirate's Spirit
The first interesting clue in this series is the name of the horse that let Kogoro win the bet: Pirate's spirit.
It is very easy to imagine a scene that pirates are enjoying drinking alcohol. The interesting part is, the liquor that usually being associated with pirates is Rum. If you google "pirates" and "alcohol" together, "Rum" should come up as an answer.
At this point, the author might be already indicating that Wakita is Rum. (Though I still doubt it a bit: cf. Detective Conan - Is There Really RUM Among Them? Dr. Agasa's Tea Trick)
Time is Money
Kanenori Wakita is an anagram of "toki wa kane nari (時は金なり)," meaning "Time is money."
This is one of the clues to connect Wakita and RUM. Once I write about the later scene involving RUM and this phrase, I will link it here.
The Eyepatch
As you may already know, Wakita wears an eyepatch on his left eye. This also lets us imagine a pirate wearing a black eyepatch on an eye.
When Conan sees it, he thinks
Come to think of it, one of Rum's eye is artificial...

Detective Conan File 975)
When Conan asks about his eye, Wakita says it is stye and tries to show it.
As file 1066 reveals that Wakita wears the eyepatch to disguise, Wakita is lying to Conan and others about his eye.
Trivia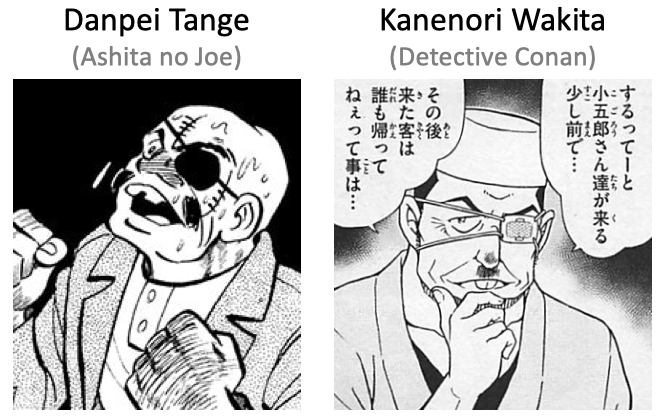 Kanenori Wakita is modeled after Danpei Tange from another manga named "Ashita no Joe."
In the manga, Danpei Tange is a cornerman assisting a boxer, Joe. Wakita then might support Conan to combat the Black Organization...?
Why Zombie's Story?
Since Wakita eager to hear Kogoro's prestigious experiences, Kogoro picks some cases that he had closed. What we (the readers) can see is that Kogoro is talking about a Zombi's case he encountered with Conan, Hattori, and others. Is this scene necessary? I am wondering why the author inserted this particular episode.
In fact, when Wakita appears in this manga, somehow the word "zombie" or "ghost" come along. In this chapter, Wakita says that "he made it looked like a dead alive as a zombie."
Zombie Cocktail
The most probable answer might be this one: Zombie cocktail.
The Zombie is a Tiki cocktail made of fruit juices, liqueurs, and various rums.

Wikipedia — Zombie (cocktail) https://en.wikipedia.org/wiki/Zombie_(cocktail)
It's already compelling; the author must be suggesting that Wakita is RUM.
Or, this suggests that Wakita is RUM's body double.
Another Theory
Some Conan fans predict that Wakita is a disguise of Tsutomu Akai or Toichi Kuroba, a father of Shuichi Akai and Kaito Kuroba, respectively. Both are allegedly dead a while ago.
"Zombie" or "ghost" that frequently comes along with Wakita might be suggesting that this theory is correct.
In another series, Wakita wears a flat cap that resembles Tsutomu's. If Wakita is Tsutomu's disguise, the story would be more exciting.
---
For now, these are the points I am interested in. I'll keep updating here whenever I come up with something.
Link